What is neuro-diversity?

People classify themselves as Neurodivergent (ND) if they have a combination of some of the following neurlogical differences: Dyslexia, DCD/Dyspraxia, Dyscalculia, AD(H)D, Autism Spectrum Difference and Tourette's Syndrome. Many find the Neuro-Diverse label to be less stigmatising than the diagnostic labels for the individual conditions.

It's worth noting that no two people with Neuro-Diversity are the same. Neuro-Diversity presents differently in all of us but one thing we all would appear to have in common is that the way our brains work can lead to us realising great potential. Not despite our condition but probably because of it!

It is my personal opinion that being Neuro-Diverse is not in itself a disability, it is actually an awesome way to be but then I am biased. Having been Neuro-Diverse my whole life I've grown to like the way my brain works but it wasn't always like that.

As someone who has grown up with these conditions I am happy to talk about how different aspects of it affected me. I can discuss the techniques I use in my life to help me overcome my difficulties, however, as I am neither a medical expert nor an educational expert, when it comes to getting advice on how the conditions affect others I recommend you go straight to the relevant organisations and the people who have researched these conditions thoroughly.



So what do the experts say?

A
ccording to
D.A.N.D.A - the Developmental Adult Neuro-Diversity Association...
'There are a number of recognised 'conditions' which are associated with Neurological Developmental Difference (NDD). Current research shows that many people who have one condition also have problems associated with other NDD conditions, These individuals are considered by many to be 'Neuro Diverse'.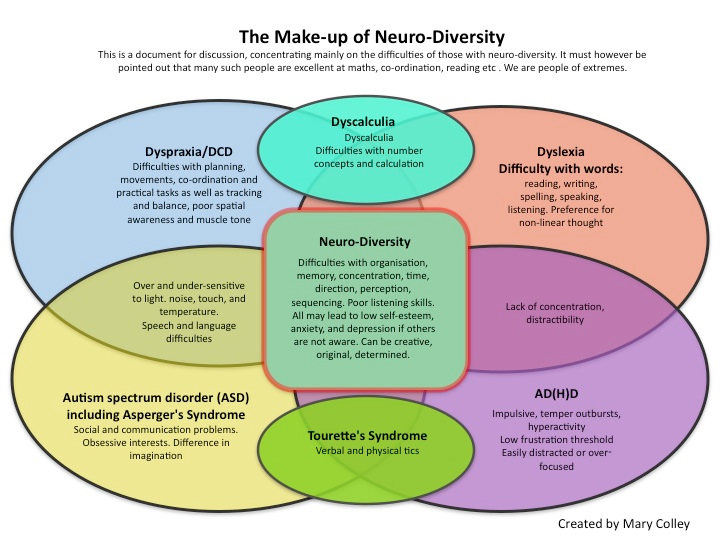 The Make-up of Neuro-Diversity - Reproduced with permission from Colley (2006), Living with Dyspraxia: A Guide for Adults with Developmental Dyspraxia. Jessica Kingsley Publishers, (London and Philadelphia) and DANDA London Social Group".
Here are some brief descriptions of these conditions and how they can affect individuals:
Dyslexia

According to the
British Dyslexia Association
... 'Contrary to popular misconception, Dyslexia is not only about literacy, although weaknesses in literacy are often the most visible sign. Dyslexia affects the way information is processed, stored and retrieved, with problems of memory, speed of processing, time perception, organisation and sequencing'.
Developmental Coordination Delay (DCD)/Dyspraxia

According to
The Dyspraxia Foundation
... 'Developmental dyspraxia is an impairment or immaturity of the organisation of movement. It is an immaturity in the way that the brain processes information, which results in messages not being properly or fully transmitted. The term dyspraxia comes from the word praxis, which means 'doing, acting'. Dyspraxia affects the planning of what to do and how to do it. It is associated with problems of perception, language and thought'.
Dyscalculia

According to the
British Dyslexia Association
... 'Dyscalculia is characterised by an inability to understand simple number concepts and to master basic numeracy skills. There are likely to be difficulties dealing with numbers at very elementary levels; this includes learning number facts and procedures, telling the time, time keeping, understanding quantity, prices and money. Difficulties with numeracy and maths are also common with dyslexia'.
Autism Spectrum Disorder inc, Aspergers Syndrome

According to the
British Dyslexia Association
... 'Autistic characteristics can co-exist with the conditions described above. Those affected often demonstrate unusual behaviours due to inflexible thinking, over-reliance on routines, a lack of social and communication skills. People with Asperger's Syndrome may have learned to largely conceal their problems but still find any social interaction very challenging and panic easily when they cannot cope'.
The National Autistic Society
further point out that... 'Some people are diagnosed with High-Functioning Autism (HFA) while others are diagnosed with Asperger's syndrome (AS). They then go on to explain the difference between the two terms. High-Functioning Autism and Asperger's Syndrome are both part of the 'autism spectrum'. The main difference between the two is thought to be in language development: people with Asperger's syndrome, typically, will not have had delayed language development when younger'.
For those of you living in Wales, UK, check out the ASDinfoWales website for the latest up to date guides and information
of services available. For those of you outside of Wales, the guides will still be of relevance so feel free to take a look.
ADD/ADHD

According to the
British Dyslexia Association
... 'Signs of Attention Deficit (Hyperactivity) Disorder include inattention, restlessness, impulsivity, erratic, unpredictable and inappropriate behaviour, blurting out inappropriate comments or interrupting excessively. Some people come across unintentionally as aggressive. Most fail to make effective use of feedback. If no hyperactivity is present, the term Attention Deficit Disorder should be used'.
Tourette's Syndrome

According to the
Tourette Syndrome Association.
.. 'Tourette Syndrome or Tourette's Syndrome is defined as 'a neurobiological disorder characterized by tics–involuntary, rapid, sudden movements and/or vocal outbursts that occur repeatedly'.
Back to top
But it's not all negative!

The above diagnostic definitions of the conditions may be an accurate description of the negative impact these conditions can have on people. They concentrate on identifying deficits as perceived by the Neuro-Typical majority however, they really only paint half the picture! For all the negatives Neuro-Typical people ascribe to the conditions there are many positives associated with them too.

It's time to raise people's awareness of the full picture so that Neuro-Diverse people can raise their aspirations and still get the help they need in order to achieve their full potential.