in order to accept people's strengths we have to stop judging them with a 'one size fits all' attitude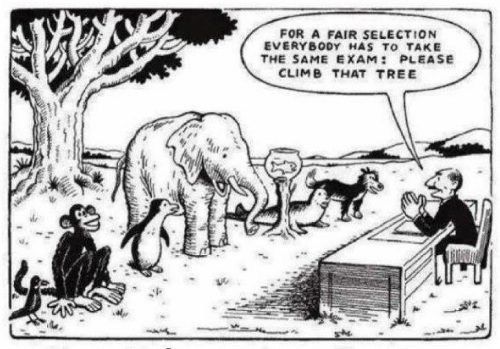 * The above picture was based on Albert Einstein's famous quote: 'If you judge a fish by its ability to climb a tree it will live out its life believing it is stupid.'

A lack of awareness of Neuro-Diverse differences can lead to...

Discrimination
disadvantage
&disability

Yet many people (including MANY health professionals), will try to put you off getting a diagnosis perhaps BECAUSE THEY SEE LABELS AS A NEGATIVE THING!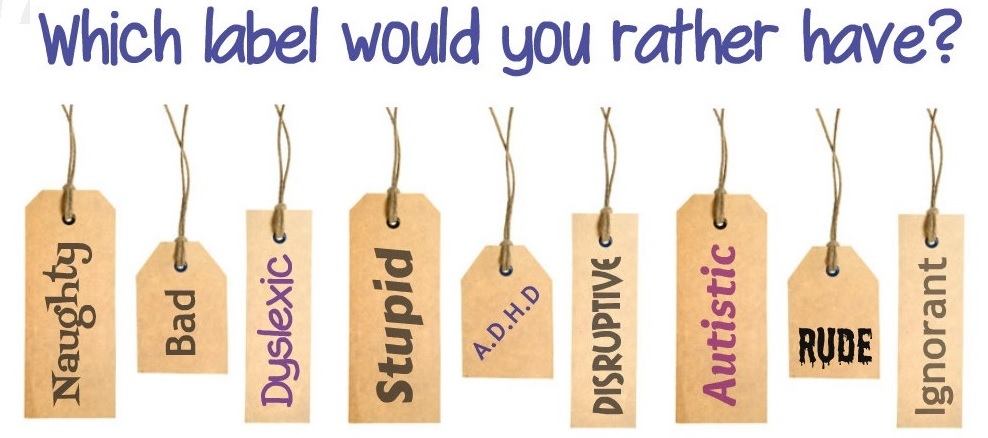 People Who Understand How They Work Can Put Strategies In Place To Help Manage Their Differences.

_Furthermore, we are constantly told by experts from organisations like the British Dyslexia Association (BDA), The Dyspraxia Foundation (DF), The National Autistic Society (NAS), and the Dyscovery Centre, University of South Wales, that early diagnosis and intervention is key to our overcoming barriers and achieving our potential. These experts claim that in many cases these early interventions can prevent years of frustration, stress, anxiety, low self-esteem, depression and other mental health conditions from developing.
How Can You Compensate For Difficulties If NO ONE CAN EXPLAIN WHY YOU'RE DIFFERENT?
Yet when trying to get a diagnosis for a Neuro-Diverse conditions like Autism, Dyslexia and DCD/Dyspraxia, many people (including medical professionals and family members), will often try to put people off getting the 'official' diagnosis. This might be because they are aware that being given a diagnostic
label
can prejudice people's view of you. That potential friends, employers, colleagues, and others, might then judge you based on their bias and lack of awareness of what having these conditions really means.
Here at the Coaching and Advocacy Service we believe that being put off having the diagnosis is not the way to solve the problem. Imagine if you knew you needed to go to the Opticians for an eye test because you can't see being told you may need glasses which will allow you to see perfectly. Then imagine being warned by lots of people that you might not want to get the prescription for the glasses because if people see you wearing them they will know you're visually impaired and judge you based on their prejudice.
We say lets raise awareness of the conditions to eliminate the prejudice NOT put people off being medically diagnosed and given the tools they need to live fully independent lives where they are not disadvantaged by their differences and can achieve their full potential!
When experts in these conditions are constantly telling us that early intervention is everything - maybe we should listen to them?
Here
at the coaching and Advocacy Service we know that people with Neuro-Diverse difficulties will be labelled anyway. Their confidence and self esteem could take a constant battering and eventually they could internalise those negative labels and use them to describe their difficulties. Diagnostic labels are a way of explaining the differences and difficulties without putting yourself down, they enable you to get the help you need and they provide you with certain protections against discrimination.
Here at the Coaching and Advocacy Service we know this to be true because we've lived it. We firmly believe that being neuro-diverse does not make us disabled, it is the lack of knowledge and understanding of our conditions that disable us!
It is our mission to increase knowledge and understanding of the conditions to help reduce the stigma of the diagnostic labels. By doing this we aim to help people see the strengths and positive qualities Neuro-Diverse people can bring.
We want to raise awareness of these conditions because the current situation is holding people back from achieving their potential. They system is geared towards the Neuro-Typical and until there is greater knowledge and understanding of these conditions this will keep happening:
* An education system that favours the neur
o-typical majority who can learn by rote and regular teaching structure. The system and style of teaching disadvantages/disables the Neuro-Diverse from the word go. We are all taught from a young age that people's potential will be limited by how well they can spell, use grammar, do mathematics and socialise with others. Our education system values and prioritises all the things that neuro-diverse individuals tend to struggle with.
* An
employment market where people who did not achieve the basic A-C grade passes in English and Mathematics are practically considered second class citizens, used as examples by Government Ministers of how the education system is failing. Constantly compared to illiterate and uneducated people and deemed unfit for most employment other than minimum wage manual labour.
Neuro-Diverse individuals may have amazing abilities, be able to produce amazing works of art like Leonardo da Vinci (now considered to be Dyslexic), scientific discoveries like Albert Einstein (now considered to be Autistic, Dyslexic & Dyspraxic), or they could be as talented an Entrepreneur as Richard Branson (diagnosed dyslexic), or Bill Gates (believed to have Asperger's Syndrome), Daniel Radcliff, star of Harry Potter (Diagnosed dyspraxic) The list of people who have accomplished great achievements who are Neuro-Diverse is huge. Unfortunately, despite the evidence in this country, at this point in time, most people who are Neuro-Diverse find it hard to secure anything better than low paid manual labour.
Is it any wonder that many people with Neuro-Diverse conditions like dyslexia, dyspraxia,
being on the autistic spectrum, ADHD, dyscalculia and Tourrette's syndrome end up with accompanying mental health conditions like depression, stress and anxiety issues, low self esteem and low confidence?
What's worse is that when Neuro-Diverse people try to get help for the mental health problems, there is very little targeted help out there for them.
Most doctors, counsellors and teachers only have a basic understanding of the conditions. This results in people with these conditions not being able to get the services and help they need from the professionals they go to.
We believe this is inadequate. We want to raise the aspirations of the Neuro-Diverse community to enable them to reach their full potential in life. We would like to encourage the creative expression of the positive skills and talents of each individual. We don't want to just accept and understand the differences of Neuro-Diversity, we want to celebrate them!
The coaching and advocacy service has been created by Monique Craine, a Neuro-Diverse individual herself who has achieved many things despite being told at school that she would never amount to anything, that the best course of action for her was to get a job waitressing or hairdressing as she would never achieve anything academically.
Monique was not entered for 'O' levels (GCSEs) because her school had no faith in her. She had to overcome her own personal barriers, her battered self-esteem as well as her Neuro-Diversity in order to make a satisfying life for herself and now she wants to help others like her to fulfil their potential and do the same.
If you would like to find out more about Monique then click on this Why choose me? link
Back to top
---